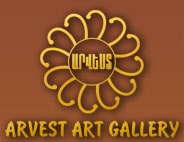 Every Monday Arvest Art Gallery master-class takes place.
75/78 Bogenbay Batira Street
(corner Kaldayakov)
Almaty, Kazakhstan

Phone: + 7 727 291 47 97
Mobile: + 7 701 799 94 09

Publications regarding the Arvest Gallery
Creating an artistic place. Nomad magazine ¹6 (24) 2008.
Creating an artistic place
Despite the global economic crisis there is still a high level of activity in the most renowned art auctions worldwide. In Fall 2008, Christi's auctioned works of art of modern painters from Kazakhstan for the first time. Does this mean that there is always a time and place for true art and that art will always attract interest among judges in spite of the economic situation in society? Maybe yes, maybe no. But there are certain examples that would lead to a positive answer to such a complicated question.
The Arvest art gallery was opened early in 2007 when many of the city's private art galleries had problems with exhibition spaces and some even closed. The more was the positive fact that the new gallery opened with its own space located downtown. The gallery quickly attracted viewers- attention and became recognized by professionals and collectors once it gathered pace by introducing exhibition projects almost every week.
A successful businesswoman, Rimma Tsakanyan, was gallery owner. Fine art has always been among her interests. A strong devotion to business did not prevent Ms. Tsakanyan from being aware of Kazakhstan's art life, art market development and gallery activity. As an active community member, she realized that even the most solid business can not carry on without a stable balance between the business world's accuracy and objectivity and an emotional, creative worldview based on intuition and enlightenment. When communicating with painters she found that she could become a part of this sphere, combining her sincere interest in arts with her business skills.
The idea of opening the gallery was several years in development and finally became a reality as a result of this strong and purposeful person. Rimma Tsakanyan has always had her own vision of a gallery. Unlike many art theorists, she interprets the notion of a gallery not only as a collection of painters and their artworks but also as a space where works are exhibited. Therefore, she approached the interior and exterior design very seriously. Everything was studied in detail - forged grids, blinking ceiling and floor finishing, functional columns and niches suitable for demonstrating minor arts. Also, soft couches for contemplation, a cup of aromatic coffee and, of course, a topical conversation. One cannot imagine a gallery without the above ... Initially, the gallery was going to be called «Leonardo». But later a new name emerged - Arvest - which, translated from Armenian language, means «art, knowledge, creation». Displaying the name in the Latin alphabet was not a tribute to fashion but a representation of a multicultural policy that is fundamental for the new gallery: the visitor may become familiar with works of modern Armenian painters, Rassim Mikhaeli (Spain) and Alexander Antatze (Georgia). It is no wonder that it was this place where the international photograph exhibition - 'To look, to see and to photograph: the Treasures of Central Asia displayed with a single click' - took place in spring of 2008. Women from various countries, the UK, Germany, Ireland, Kazakhstan, the Netherlands, New Zealand, Poland, the USA, France and South Africa, presented their works. Many of them are members of Almaty International Women's and Diplomatic Club. They decided that the beauty they see around shall both remain in their memories and give joy of impressions to the others. An important feature of the project is that the receipts from trade were used for charity as responsiveness is inherent to the artistic people.
Maybe one day the gallery will host contemporary-art exhibitions, as well as video and media project presentations. For now, the gallery is a citadel for painters with a romantic world vision. For its almost two years of activity, Arvest has implemented many vivid projects. Twice the gallery space was used as a platform for implementing independent supervised projects. Thus, Elena Gregorian became a supervisor of the «Wings Rustling» exhibition, which combined works devoted to the topic of Christmas. Andrei Lednev initiated a demonstration of drawings by Mikhail Pak - a nude model from Kazakhstan now living abroad.
Another challenge for the gallerist is to introduce the visitor to new artists, to draw attention to their work and to make them commercially successful. A gallerist's view differs from that of an art critic. When appraising artworks the gallerist does not make any comparison or study technique but follows a general impression, rather as visitors do. But having good taste and professional knowledge allows the gallerist to take risks in presenting paintings to public. This is why the gallery and Rimma Tsakanyan are especially proud of discovering and showcasing the art of a painter from Zhambyl - Baimakhan Sherimov.
The images on canvas are visualized by this gifted painter in a simple way with the images full of light and poetry.
Numerous lyrical landscapes draw the viewer's attention to imperceptible provincial houses, familiar poplar rows, city streets and minarets reaching up to the sky. Images of women are tender and inspired. The painter avoids individual features, striving to depict charm, femininityand beauty when picturinggirls with a jug or a melon, brides on camels or sisters. The national clothes of the characters, saukele on girls or waistcoats on young men, serve to create an atmosphere rather than refer to the past of the Kazakh people. At the same time in each canvas one can feel a national spirit and respect for traditions typical of the painter as a true representative of his nation. The works' fine scenery, combination of soft and quite tones on canvas, as well as stylization and generalization techniques produce a sophisticated design melody that elicits a response in the viewer's soul. One of the gallery's latest projects was an exhibition of works by Vaghif Rakhmanov - a renowned Kazakh sculptor. At a retrospective exhibition called «The Ìåmîró» wellknown maestro of domestic plastic art presented his works from 1983 right up to those finished a few months ago. Using various bronze toning and combining this metal with coarse stone or blazing multicolored glass, the sculptor seeks decorative expression and persuasive images. One of the major expositions was the painting called «The Past», created in 2008. A tense stylized image of the totemic wolf is inserted into a circle - a sign of the sun. This creates a deep and symbolic character. Along with sculptures, the project features a demonstration of less well-known graphics and introduces Vaghif Rakhmanov as a skilled graphic artist.
...Take a couple of free hours and visit the Arvest gallery. Slowly walk along the walls where beautiful paintings and graphics are exhibited. Take a closer look at the sculptures on podiums, watch carefully the author's jewelry in the front windows. Then take a seat in a comfortable armchair with a coffee and appreciate the general aura of this place, ratherthan merely the impression of some artworks. You will certainly come back and may take some piece of this atmosphere with you by acquiring one of the artworks. Indeed, the galleries are made to help the art meet us, the viewers.
Alla Dubrovina